Who doesn't get excited with travelling and shopping? When we usually talk about shopping while travelling, we often think about Hong Kong or Japan! Let me tell you: Seoul is also one of the best cities to shop in! 
Before we get to the places to shop, let's get you into some introduction into Seoul! Seoul is the capital city of South Korea and also one of the biggest cities in Korea. It is indeed a busy city! In this city, we can get the best shopping experience. Sit tight as we go through some best places to fill your luggage with presents! 
Gangnam (강남)
The Gangnam district is full of many international brands like MUJI and UNIQLO. There are also lots of larger local brands such as Innisfree and Olive Young. You can also get anything here! 
Other than shopping on the streets with the larger brands, there are smaller shops in the underground shopping malls (강남역 지하도상가). The underground shopping mall is linked to Gangnam subway station (강남역)!
Image Credit
You can access the underground mall through line 2/ Sinbundang, all exits except for exit 3-6. The shops are usually open everyday, except for Seollal (설날) and Chuseok (추석) holidays. You can click into the holidays above to get to know more about festive seasons in South Korea!
---------------------------------
Myeongdong (면동)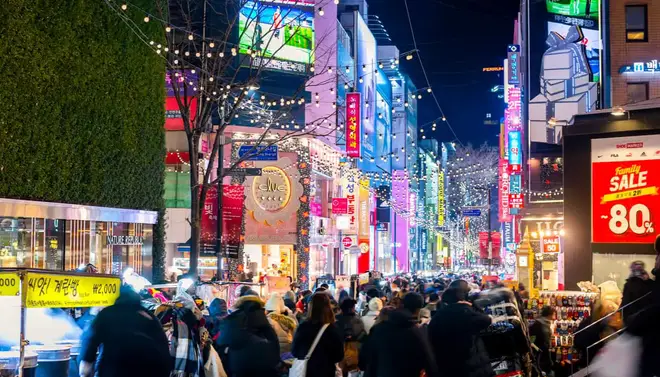 Image Credit
Myeongdong is one of the more expensive areas in Seoul but there are a huge variety of shops and food here! There are many department stores, shopping centres, shops and food (there are lots of street food too!). 
---------------------------------
Hongdae (홍대)
Image Credit
This district has more artistics vibes and local talents. There are more small local shops than bigger branded shops. If you would like to get unique clothes, this district is best for you! Hongdae also has a lot of busking! If you want a short break in between shopping, you can watch the street performances. Here is a video more about Hongdae:
---------------------------------
Dongdaemun (동대문)
Image Credit
Dongdaemun has a lot of shopping malls and is ideal especially during summer! Imagine the weather being so humid, you are just sweating the moment you step off the plane! Ughhh.. Not that nice but it isn't going to stop your plans on a shopping spree. Some of the best malls include 1 apM Place, Lotte FITIN, and Dotta. Of course there are other malls for you to shop!
Tips: You should make a shopping itinerary before travelling to avoid all the travel hassle! It is to avoid any problem of travelling without the internet! 
---------------------------------
---------------------------------
Convenient Stores (편의점) 
If you are waiting for a friend who shops for something for a long time, you can visit the convenient stores (if there is one!). There is lots of food there to try! Here are some recommendation videos for you to watch!
Let us know in the comment section below where you would like to shop when you come to Seoul!
Author: Tiffany