Welcome to Hongdae, a vibrant and trendy area in Seoul that has become a shopping haven for fashionistas and trendsetters alike. Nestled in the heart of the city, Hongdae offers a unique and unparalleled shopping experience. Let's explore Shopping destinations in Hongdae.
Famous shopping spots in Hongdae
Hongdae is home to many famous shopping spots that attract visitors from all over the world. One of the most popular destinations is Style Nanda, a three-story concept store that offers a curated collection of trendy clothing, accessories, and cosmetics. With its vibrant and Instagram-worthy interior, Style Nanda is a must-visit for fashion enthusiasts looking for the latest trends.
Another iconic shopping spot in Hongdae is Aland, a multi-brand store that showcases a mix of local and international fashion brands. Aland is known for its cool and edgy selection of clothing, shoes, and accessories, making it a go-to destination for those seeking unique and unconventional styles.
If you want a more upscale shopping experience, visit Doota Mall. This 24-hour shopping complex houses a wide range of high-end designer brands, offering everything from luxury clothing to accessories and beauty products. With its modern and luxurious atmosphere, Doota Mall is a favorite among fashionistas with a taste for the finer things in life.
Trendy fashion boutiques in Hongdae
In addition to the famous shopping spots, Hongdae is home to many trendy fashion boutiques catering to various styles and tastes. One such boutique is A-Land, a concept store that brings together emerging designers and artists under one roof. Here, you'll find unique and avant-garde clothing pieces that will make a statement.
Koon With a View is a must-visit for those who prefer a more minimalist aesthetic. This boutique offers a carefully curated selection of contemporary clothing and accessories, focusing on clean lines and quality craftsmanship. With its sleek and modern interior, Koon With a View provides a calm and serene shopping environment.
Unique and independent stores in Hongdae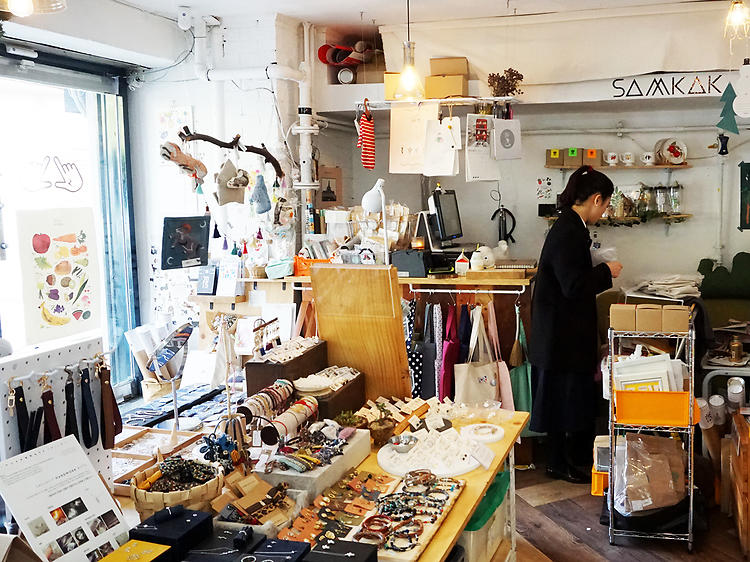 Hongdae is known for its vibrant and creative atmosphere, reflected in its unique and independent stores. One such store is Hongdae Free Market, a gathering of local artists and artisans who sell their handmade crafts and artworks. From handmade jewelry to hand-painted ceramics, you'll find a wide range of one-of-a-kind treasures at this market.
If you're a fan of streetwear and urban fashion, make sure to visit Kasina. This independent store specializes in streetwear brands and limited-edition sneakers, offering an extensive collection of unique and hard-to-find pieces. With its underground vibe and curated selection, Kasina has become a go-to destination for streetwear enthusiasts.
Shopping for Korean cosmetics in Hongdae
No trip to Hongdae would be complete without indulging in the world of Korean cosmetics. The district has numerous beauty stores, each offering a vast selection of skincare and makeup products. One of the most popular stores is Olive Young, a beauty retailer that stocks Korean and international brands. You'll find everything you need, from sheet masks to serums , to achieve that coveted K-beauty glow.
For a more immersive experience, visit the Tony Moly flagship store. This three-story beauty paradise showcases the brand's extensive range of skincare, makeup, and beauty tools. With its playful and colorful interior, the Tony Moly flagship store is a delight for the senses.
Street markets and flea markets in Hongdae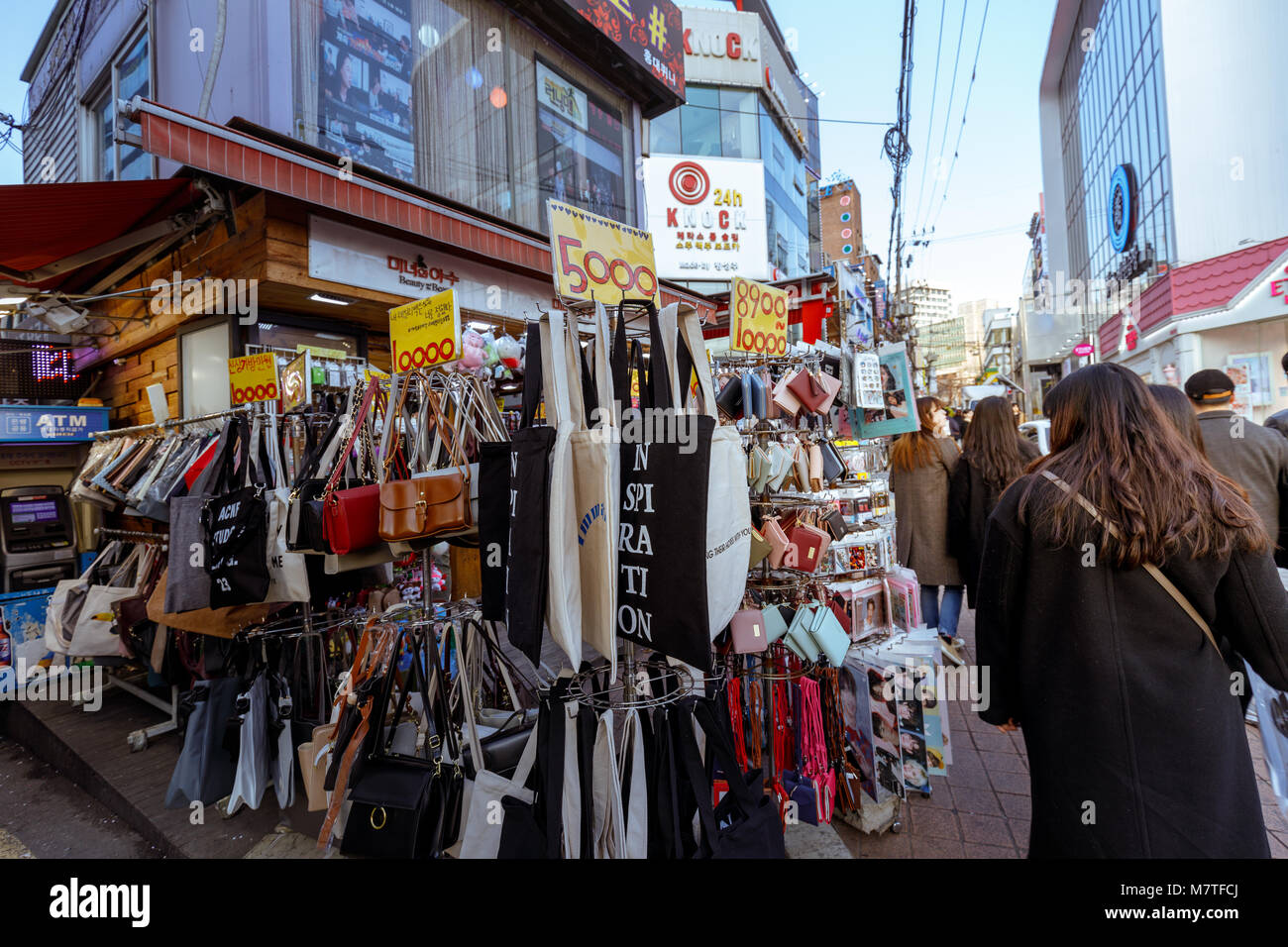 If you're searching for unique and affordable finds, Hongdae's street and flea markets are the place to be. Every weekend, the Hongdae Free Market transforms the streets into a bustling marketplace where local artists and designers sell their creations. This market is a treasure trove for those looking for something extraordinary, from handmade accessories to quirky art pieces.
For vintage lovers, the Hongdae Vintage Market is a must-visit. Here, you'll find a curated selection of vintage clothing, accessories, and home decor items from various eras. Whether you're searching for a vintage bomber jacket or a retro vinyl record, this market has it all.
Shopping for K-pop merchandise in Hongdae
As the birthplace of K-pop, Hongdae is a paradise for Korean music fans. The district is filled with stores specializing in K-pop merchandise, offering a wide range of albums, posters, clothing, and accessories. Visit K-pop stores like Koryo Books and Kpop Plan for an extensive selection of your favorite K-pop idols' merchandise.
For a unique K-pop shopping experience, head to the Line Friends flagship store. This store features a range of adorable merchandise featuring popular Line Friends characters, as well as collaborations with K-pop groups like BTS. The Line Friends flagship store offers a fun and playful shopping experience, from plush toys to stationery.
Shopping for vintage and second-hand items in Hongdae
If you're a vintage and second-hand fashion fan, Hongdae has plenty to offer. One of the most popular vintage stores in the district is Flyday Vintage, a treasure trove of retro clothing, accessories, and even furniture. Here, you can browse through racks of unique and one-of-a-kind pieces from different decades, allowing you to create a truly original and stylish look.
For a more curated selection of vintage clothing, visit the second-hand store called Sungkyunkwan. This store focuses on high-quality vintage pieces carefully selected for their style and condition. From vintage Levi's jeans to vintage Chanel bags, Sungkyunkwan offers a range of timeless fashion items.
Tips for shopping in Hongdae
Start early: Hongdae can get crowded, especially on weekends. To avoid the crowds, start your shopping adventure early in the day.
Explore side streets: While the main streets of Hongdae are bustling with shops and boutiques, don't forget to explore the side streets. You'll often find hidden gems and unique stores in these quieter areas.
Bargain wisely: While bargaining is not common in most stores in Hongdae, you can try your luck at flea markets and independent stores. Be polite and respectful when negotiating prices.
Dress comfortably: Hongdae is a lively and bustling district, so wear comfortable shoes and clothing. You'll be doing a lot of walking and browsing, so it's essential to dress for comfort.
Embrace the local culture: Hongdae is not just about shopping; it's also about immersing yourself in the vibrant local culture. Take the time to explore the street art, enjoy live performances, and try local street food for a complete Hongdae experience.
Conclusion
Hongdae offers a shopping experience like no other. With its wide range of shops, boutiques, and markets, fashion enthusiasts can find everything they desire, from trendy fashion boutiques to independent stores and vintage markets. With its lively atmosphere, bustling nightlife, and thriving music scene, Hongdae is not just a shopping destination but a vibrant cultural hub. So, immerse yourself in the vibrant streets, discover hidden gems, and embrace the eclectic spirit of Hongdae. Your shopping adventure awaits!