Korean Books for Coffee and Chocolate Lovers
Sometimes we need a sweet treat to boost our energy. But it's not candy—it's a good Korean book! Here are some books about coffee and chocolate written by Korean authors that you need to read.
A Shot of Knowledge
I like learning more about what I eat and drink, don't you? Let's kick off this list with some non-fiction titles.
Coffee Handbook (Korean edition) by Kim Jung-yeol (2008)
Image Credits: Image via Amazon.com
We love going to cafes, whether it's by ourselves or with someone for a date. In this book, Kim Jung-yeol visits different Korean cafes to learn about the essence of coffee. With philosophical musings and photos that give off a retro vibe, Coffee Handbook is as much about the shops and people as it is about the drink. 
Korea Specialty Coffee Guide by Charles Costello, Wonjin Cho, and Jaebeom Shim (2022)
Image Credits: Image via Caffeine Compass
More cafes are using single origin coffee beans to make the highest quality of coffee. These specialty coffee shops popping up everywhere, including in South Korea. Korea Specialty Coffee is the first English-language guide to the Korean specialty coffee scene. It also gives the history of specialty coffee for first-time readers or drinkers. If you're interested in more café recommendations, consider following Caffeine Compass on Instagram.
Chocolate Chocolate: The True Story of Two Sisters, Tons of Treats, and the Little Shop That Could by Frances Park and Ginger Park (2011)
Image Credits: Image via Amazon.ca
Korean-American sisters Frances and Ginger Park's lives changed when their father passed away. Despite having no experience, they decided to open a chocolate shop in Washington, D.C. with their inheritance. With the help of their employees and customers, the Parks were able to bring Chocolate Chocolate to where it is today. If you need a pick-me-up, this is the book for you. (Visit the Chocolate Chocolate website to look at their other books and sweets.)
Manhwa and Mocha
Coffees and webtoons go hand in hand, it seems. If you can't get your hands on a cup of joe, scroll through a few of these chapters instead.
Bom's Espresso by Gwondohee and Dolchenabi (2021-2022)
Image Credits: Image via Kakao Page 
Have some romance with your morning cuppa. Former café owner Yoon Bomsol starts a new job under the arrogant barista Jake K. However, she doesn't know he is Kim Jaehee, a customer who'd proposed to her almost a decade earlier. Will Bomsol recognize him before it's too late? We can't tell you—you'll have to read this webtoon for yourself!
Coffee Fox Kim Sam-wol by Nica and A.Noa (2022)
Image Credits: Image via Rockin' Korea
A gumiho (nine-tailed fox) walks into a…coffee shop? Samwol Kim eats a thousand livers to become a god, but somehow turns into a human. She struggles with her new life until she meets café owner Jong-man Park, who takes her in as a part-timer. Soon, Samwol must choose between eating his liver or giving in to her blossoming feelings for him.
Café Requiem by Verdi (2014)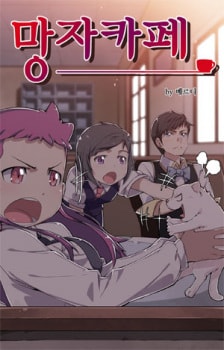 Image Credits: Tappytoon via MyAnimeList
From gumihos to ghosts. Hana can see dead people, which comes in handy when she starts working at Café Requiem where the customers are spirits. With each person she serves, she learns a new story, a new wish, a new secret. If you enjoy slice of life mixed with the paranormal, we recommend you give this series a try.
From Page to Screen
Did you know that some of your favorite coffee-themed shows were once webtoons or books? Here they are for your enjoyment.
The 1st Shop of Coffee Prince by Lee Sun-mi (2006)
Image Credits: Image via Goodreads 
First up, the book behind popular k-drama "Coffee Prince." Tomboyish Go Eun-chan gets hired to work at the shop Coffee Prince. The catch? Owner Choi Han-gyeol only hires good-looking men, and she is a woman. Making the situation even more awkward, Han-gyeol once pretended to date Eun-chan. He starts developing feelings for her, but without knowing she's a girl. Read this novel before you watch the k-drama, or after, so you can compare the two.
Would You Like a Cup of Coffee? by Huh Young-man (2015-2017)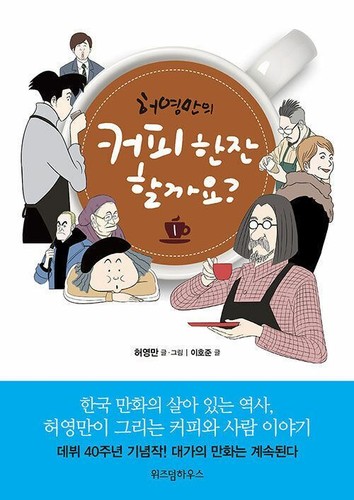 Image Credits: Image via Harumio 
This warm, comforting k-drama about coffee and people started with the series of the same name. Would You Like a Cup of Coffee? follows Kang Go-bi, who starts working as a barista under Park Seok. As he gains experience, he also learns valuable life lessons from the customers. Be sure to check out other works by Huh Young-man, including Tajja and Sikgaek, which also have screen adaptations.
Love by Law/Love According to the Law by Noh Seung Ah and Illy (2019)
Image Credits: Image via Baka-Updates Manga 
Legal dramas and manhwa don't have to be intense and action-packed. Love by Law's leads, Kim Jeong-ho and Kim Yu-ri, are former prosecutors/lawyers. Jeong-ho owns the building where Yu-ri's new Law Café is located. Once childhood friends, they become business partners who help each other and their clientele. But soon, their friendship turns into something else…We recommend this manhwa and show if you love coffee, cases, or both.
If you'd like some authentic Korean snacks to crunch on while you read these books/webtoons, make sure to check out our Wonka Café 2.0 SeoulBox. You'll get a nice mix of sweet and salty and some more caffeine knowledge in our Seoulzine. Like Willy Wonka said, come with us and you'll be in a world of pure imagination!