December 14, 2021
K-Culture
How people celebrates Christmas in Korea?
Hello Seoulmates~ We love Christmas don't we?! It is yet another time of the year where we get gifts and also the time near the end of the year!! Let's get you introduced to some of the interesting facts about celebrating Christmas in Korea.
Image Credit
First question we always get: Do they celebrate Christmas in Korea? Of course we do! We celebrate Christmas just like any other country. Windows of shops are full of Christmas decorations and people shop in the snowy weather. 
Interesting facts about Christmas in Korea
Despite some of the similarities, there are also some differences! Let's get to those interesting facts about the celebration of Christmas that Korea has as compared to other western countries! 
Like in many other countries, Christians attend church on the day to celebrate the birth of Christ. Other people will exchange gifts and also take it as a holiday (though it is not celebrated as one of the biggest holidays like Seollal (Korean Lunar New Year) or Chuseok (Korean Thanksgiving)). It feels more like Valentine's Day than really a big occasion! 
Are you looking for gifting options for this festive season? Check out this blog: Ultimate Guide To 25 Traditional Korean Gift
How do you say Merry Christmas in Korea?
It is an actual translation from English: '메리 크리스마스 (mae-ri ke-ri-se-ma-se)' 
Here are some of the other ways to say Merry Christmas in Korean! Check out the video here: 
Christmas food and places to visit
When we think about Christmas meals, they are generally turkey, roast chicken and other Christmas food! However, Koreans do not usually have those for Christmas. It just isn't part of the traditional food. 
Unless… you drop by western restaurants that might make special Christmas special meals. Or you can try buying Christmas food from department stores if ever there is a food section!
Image Credit
The shopping districts like Myeongdong and Gangnam will be decorated with Christmas decorations. There will also be Christmas carols and songs playing in the malls and stores. So do check the city centres for more Christmas vibes!! 
Christmas K-pop songs
There are some K-pop songs with Christmas feels~~ Maybe you can add them to your Christmas playlist! Let check some of them below:
Christmas dramas
Healer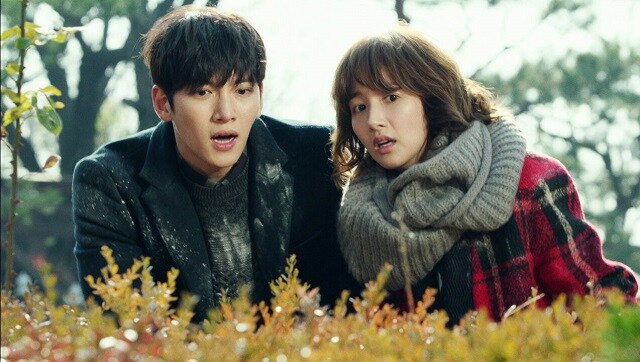 Image Credit
The drama series is about a news reporter (Park Min-young) and a criminal named Healer (Ji Chang-wook) fall in love with each other. There is also some thriller genre in it (you might be interested if you want some chills to the bones this Christmas)! The series was released in 2014. Do check it out if you haven't even: 
 The Legend of the Blue Sea
This drama is filmed in spring and winter so there are some Christmas vibes here! It is a rom-com drama about a mermaid and a con artist. It was released in 2016, starring Lee Min-ho and Jeon Ji-hyun. It has some mystery and fantasy feels to it too! 
We would love it if you could experience Christmas in Korea with us! Click here to know more! 
SeoulBox would like to wish you a Merry Christmas! As always, stay safe Seoulmates ~~ Let us know in the comments how you would celebrate Christmas this year!
Author: Tiffany
7 comments
I'm so glad I found dr.Larry, My wife left me a month ago after 14 years of being together. I've spent the last month agonizing, crying, feeling guilty and feeling the lowest ever. i did so much to get her back but nothing worked out not until i saw a comment online when someone was testifying of how Dr Larry helped him to restored back his wife and that was how i contacted him through his email and after writing my issue out he assured me that he will help me to get back with my wife in 24hours after casting the love spell, and after he did the spell my wife came back home and pleaded that she is very sorry for the pain she caused me and the kids. I am back with my wife and we are both happy and living together again. I know there are many people out there that want to get their love back. Please contact Dr Larry cause he is the perfect answer to your problem. Here's his contact:
Call/WhatsApp him: +1(424)-261-8520 ,
Email him at: assurancesolutionhome@gmail.com facebook page https://www.facebook.com/assurancesolutionhome/
STACY VEE
January 23, 2022
My name is Ashley Vivian, Am here to share a testimony on how Dr Raypower helped me. After a 1/5 year relationship with my boyfriend, he changed suddenly and stopped contacting me regularly, he would come up with excuses of not seeing me all the time. He stopped answering my calls and my sms and he stopped seeing me regularly. I then started catching him with different girls several times but every time he would say that he loved me and that he needed some time to think about our relationship. But I couldn't stop thinking about him so I decided to go online and I saw so many good talks about this spell caster called Dr Raypower and I contacted him and explained my problems to him. He cast a love spell for me which I use and after 24 hours, my boyfriend came back to me and started contacting me regularly and we moved in together after a few months and he was more open to me than before and he started spending more time with me than his friends. We eventually got married and we have been married happily for 3 years with a son. Ever since Dr Raypower helped me, my partner is very stable, faithful and closer to me than before. You can also contact this spell caster and get your relationship fixed Email: urgentspellcast@gmail.com or see more reviews about him on his website: https://urgentspellcast.wordpress.com WhatsApp: +1 (209) 783-8804
Ashley Vivian
January 12, 2022
I'm impressed, I must say. Seldom do I come across a blog that's both educative
and entertaining, and let me tell you, you have hit the nail on the head.
The issue is something which not enoygh folks are speaking intelligently about.
I am very happy Icame across this during my search for something concerning this. https://vavadaonlinecasino.evenweb.com
Casino app
January 11, 2022
I always used to study post in news papers but noow ass I aam a user of wweb so from now I am using net for posts,
thanks to web. https://theslotsonline.Mystrikingly.com/
DR. OGAGA IS THE BEST SPELL CASTER ONLINE WHO RESTORED MY BROKEN RELATIONSHIP AND I HIGHLY RECOMMENDS DR. OGAGA ANYONE IN NEED OF HELP! WHATSAPP +2347059387282
My husband left me for another woman 12 months ago and ever since then my life have been filled with pains sorrow and heart break because he was my first love whom I have spent my entire life with. A friend of mine told me he saw some testimonies of a spell caster called Dr Ogaga that he can bring back lover within some few days, i laugh it out and said i am not interested but because of the love my friend had for me, she consulted the great spell caster on my behalf and to my greatest surprise after 2 days my husband called me for the very first time after 12 months that he is missing me and that he is so sorry for every thing he made me went through. back to me and now we are happy together. I still can't believe it, because it highly unbelievable. Thank you Dr Ogaga for bringing back my lover and also to my lovely friend who interceded on my behalf, for any one who might need the help of this great spell caster here is the email address
drogagalovespell@gmail.com OR drogagalovespell@yahoo.com
WhatsApp: +2347059387282
Hudson Elizabeth
January 06, 2022
DR. OGAGA IS THE BEST SPELL CASTER ONLINE WHO RESTORED MY BROKEN RELATIONSHIP AND I HIGHLY RECOMMENDS DR. OGAGA ANYONE IN NEED OF HELP! WHATSAPP +2347059387282
My husband left me for another woman 12 months ago and ever since then my life have been filled with pains sorrow and heart break because he was my first love whom I have spent my entire life with. A friend of mine told me he saw some testimonies of a spell caster called Dr Ogaga that he can bring back lover within some few days, i laugh it out and said i am not interested but because of the love my friend had for me, she consulted the great spell caster on my behalf and to my greatest surprise after 2 days my husband called me for the very first time after 12 months that he is missing me and that he is so sorry for every thing he made me went through. back to me and now we are happy together. I still can't believe it, because it highly unbelievable. Thank you Dr Ogaga for bringing back my lover and also to my lovely friend who interceded on my behalf, for any one who might need the help of this great spell caster here is the email address
drogagalovespell@gmail.com OR drogagalovespell@yahoo.com
WhatsApp: +2347059387282
Hudson Elizabeth
January 06, 2022
Natural Herbal Medicine To Cure {HERPES DISEASE} TOTALLY HERE
Do you need a solution to cure your Herpes Disease contact Chief Dr Lucky to help and he will surely help you to cure your Herpes Virus .. I have suffered from Herpes-2 Virus for 4years ago that almost took my life. But one day I was searching the internet and I found Chief Dr Lucky saw so many testimonies on how Chief Dr Lucky helps people in curing their deadly diseases, and I contacted Chief Dr Lucky, asked him for solutions and he started the remedies for my health. He prepared herbal medicine for me and I received the herbal medicine and after using it for 2 weeks my condition has greatly improved, all my symptoms including Abdominal pain, Nausea and vomiting, Loss of appetite stopped, so I went to my doc and was confirmed negative. I am Herpes Virus free! contact the herbal doctor via his email> chiefdrlucky@gmail.com also visit his page> http://facebook.com/chiefdrlucky or his cell number / WhatsApp> +2348132777335 Website > http://chiefdrlucky.com
Jessi Millwood
December 19, 2021
Leave a comment