'The great middle of autumn' - that's how people describe Chuseok on the internet. But what exactly does that mean? 
From the real meaning of the auspicious festival to fun facts, from the struggles of foreigners to everything Koreans eat, wear, and do on this traditional day. 
What is the Thanksgiving in South Korea?
Chuseok, Korean Thanksgiving Day, is one of the biggest and most important holidays in Korea. Family members from near and far come together to share food and stories and give thanks to their ancestors. In 2021, the day of Chuseok falls in September. 
How different was Chuseok 2020, & in North Korea? And many more interesting facts you will find here. 
Stay tuned 'cause we're going to share every detail with you! 
What Does Chuseok mean?
Chuseok, also known as Hangawi, is a beautiful occasion created by the Korean ancestors to thank the moon for making that particular year's harvest good. 
It falls on the 15th day of the 8th month following the Lunar calendar. Almost all Asian holidays are calendared that way. 
Hangawi means The Great Middle Of Autumn. Do you know what Han stands for? 
"Great"! 
Not only in Korea, but this particular word is considered to be a highly respectful term in the other two neighboring countries - China and Japan as well. 
Now we know why the Korean alphabet system is known as Hangeul (한글). Han means "Great" and Geul "Writing". 
When & Why did this all start?
The ancestors looking at the vast moon in the twinkly night sky and thanking it for the beautiful harvest it gifted them with the year, wished that it would bring them good luck again. 
This is what the Korean descent believed. 
Since the country was agricultural land, this was an important gesture for them back in 57 BC when the auspicious festival is believed to have started.  
The modern Chuseok that we see includes a lot of other rituals as well. But the actual holiday started to be grateful for the good crop. 
How Long Is The Holiday? 
Koreans especially enjoy this holiday for the short vacation they get to spend with their family. 
They usually get three days to relax and get rid of the stress from the hectic lifestyle as they head over to their hometowns for the break. 
In 2021 it will start on September 20th and will go on till the 22nd. 
It usually falls at the end of September and October starts. Just like Chuseok 2020 was on September 30th and October 2nd. 
Struggles During The Festival 
Traffic Jams
Chuseok is one of the two most highly celebrated festivals of Korea alongside Seollal (Lunar New Year). 
People living in big cities, most probably Seoul and Busan, resume for their home as this holiday is all about eating and being with your people.  
However, this very process invites the year's greatest traffic jam the country ever sees. The roads are expected to see over 5.8 million cars each year and increasing year by year, reported by the Arirang News. 
The run time which usually is of 2-4 hours, takes 5-8 hours during this time. 
It's not only about traffic jams, the people who wish to travel home by bus, train, or flights, they need to "fight" - yes fight for tickets. They usually are booked weeks before.
Post-Chuseok Syndrome 
In Asia, women being the one who handles the inner-management of the house, preparing tons and tons of food for this festival falls under the department of them. 
Unfortunately, they have to work so much that many reports stated that women get bad backaches, headaches, body pain, and other conditions. 
It became so rampant that it got labeled as "Post-holiday Syndrome". 
To avoid the same, Banchan Market (반찬가계) came into existence. Banchan is a representative word for all the side-dishes in Korea, one of the famous ones is Kimchi. 
How Is Chuseok Celebrated?  
Every tradition has its own way of honoring and rejoicing. Let's see it's customs one by one. 
What Do Koreans Wear? 
Looking good and presentable is a part of every festival. Chuseok is one such holiday of Korea wherein traditional clothes are supremely important. 
And Hanbok is their representative attire. Again, Han being great and Bok uniform. 
Looking at this you might want to try it once. Well, we were no different.  
Hence, we found a few places you can visit and take the feel of the real old Korea. Not only can you wear Hanbok, but also can roam around those villages called Hanok (한옥). 
A few of them are Jeonju, Bukcheon, and Gongji Hanok Villages. 
Traditions & Customs to follow
Charye 
After serving the food on the table, people bow down twice to remember and pay respect to the deceased. 
Bowing down in Korea, as you might have seen in historical traditional dramas, including kneeling, and your forehead must touch to the ground. 
Making the bow only once would be respectful to the elders who are alive. 
All these steps specify that you are presenting food to your ancestors. 
Hence, it is an ancestral ritual.
Seongmyo
They end the holiday with Beolcho and Seongmyo, which includes visiting their ancestors' graves.
The first process involves cleaning the areas around the grave, like trimming the grass, clearing weeds, etc. This is known as Beolcho. 
Thereafter, one by one, the family members take turns to bow down to the descent and pay their respects, which is the last step known as Seongmyo.
Tradition folk games 
Traditional games, referred to it as Jeon-teong-neo-ri (전통놀이) are played with friends and family on the occasion.  
There are a lot of games that Koreans play on this day. 
A few of them will be Juldarigi (a massive tug of war), Ssireum (a traditional wrestling event between two participants), Go-stop (a difficult Japanese-origin game played with cards), and many more such interesting ones. 
However, Ganggangsullae is something that has always caught our attention. 
A fun fact about this game is that it is the representative one also has been recognized by UNESCO. 
They portrayed it as "a seasonal harvest and fertility ritual". 
Food 
This festival is a lot about a variety of food. From ancestral rites to enjoying the occasion, so much revolves around food. 
A few of the dishes that are prepared are Jeon (pancakes made from Potatoes, Kimchi, etc), Galbijjim (stewed beef short ribs that has a little bit of sweet taste), Tteokguk (which very well known to serve in Seolnal, is a dish made from sliced rice cakes and usually beef broth). 
Fruits, Japchae (made with glass noodles and topped with meat and veggies), and many more. 
But the representative food of Chuseok would be Songpyeon. They are not-so-big half-moon-shaped rice cakes. They come in both white and colorful. 
Filled with Jujubes, powered sesame, red beans, and chestnuts, and brown sugar tastes a little sweet and chewy at the same time. 
But do you know what Seongpyeon symbolizes? 
Well, it means "good wishes and dreams". Hence, it is the representative food.
Gifts
Gifting has become so important and expensive part of the tradition that an anti-corruption law was passed to limit its prices. 
The believed reason was because of the officials who receive bribes or people who give it in the form of the gift. 
If you are Korean working in the Civil service, media, or education, then you can spend and in fact receive, only about 30,000 Won of meals. As for gifts, you can go for 50,000 Won and cash, not more than 100,000 Won.
How Different Was Chuseok 2020? 
Last year was a sudden life-changing one for the world. With Covid-19 entering and escaping of our social lives, the changes became constant. 
From our daily routines to festivals, and everything else - changed. This indeed affected Chuseok 2020 as well.  
So, how was it actually celebrated? 
All the rituals, like Charye & Seongmyo, were not performed by visiting themselves as they would do every year. 
Since it was not safe outside, many did not even proceed to their hometowns. They rather chose to face time their elders on the day.  
Lee Young-Su is the son of the ancestors who founded the famous Joseon Dynasty, made a statement to Reuters on the occasion of Chuseok last year. 
He mentioned that he wouldn't be able to make the traditional visit to his ancestors, rather just preferred to stay at home with his six-year-old son and pregnant wife believing the statement his father expressed that they can honor their ancestors from the heart.  
Hence, Chuseok 2020 was more about spending time with families, but online.
What To Do In Korea During Chuseok If You're A Foreigner? 
Foreigners living in Korea don't usually get to experience, unless and until your Korean friend invites you to their house. 
However, often they are alone during the holiday. But, you can take advantage of the peace you get at that time. 
Either stay at home and spend your holidays with your TV and popcorn. Or, you can step outside, only after all the traffic jams though.  
Visit places that give you traditional vibes, like Gyeongbokgung Palace, or Changdeokgung Palace. Changgyeonggung Palace or Deoksugung Palace.
Or if you're an adventurous yet chill kind of person, go to Lotte World for the wonderful rides,
If you want to experience vintage Korea, visit Namsangol Hanok Village, or get yourself to learn a bit more about the nation and its art by visiting The National Museum of Korea or The National Museum Of Modern and Contemporary Art. 
There are a lot of places where you can see yourself, choose one and go ahead!
How Is Chuseok Different In North Korea?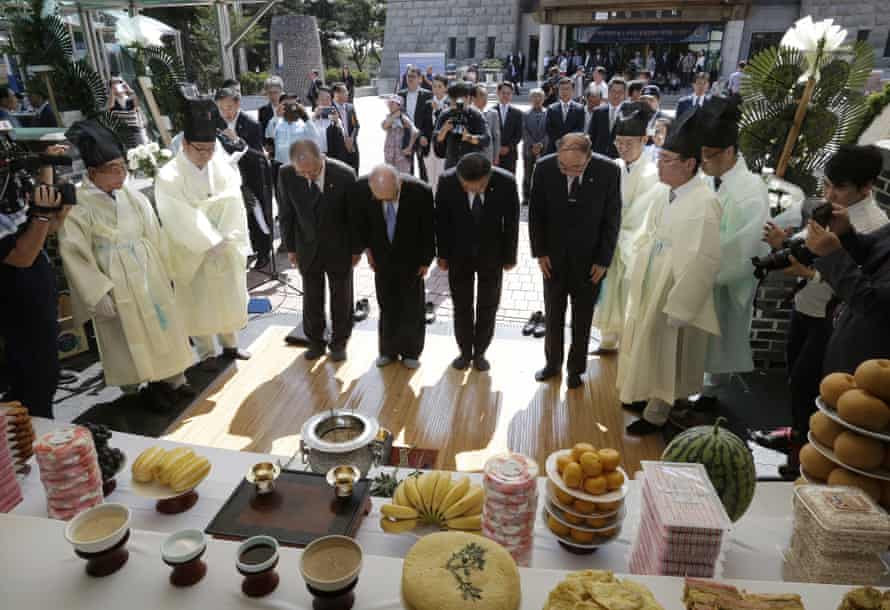 North & South Korea are indeed divided, but this propitious holiday remained the same for both. 
However, just like how Hangeul in North Korea is known as Chosongul even after both the writing system is the same. Just like that, the festival and, the traditions are a bit different.  
In North Korea, Chuseok was not even considered as a public holiday until the 1980s.  
We've seen so far that South Koreans travel back to their roots and be with their relatives and extended families. However, North Koreans, on the other hand, believe to spend this holiday with fewer people. 
The reason behind it is believed to be the weak foundation of travel, as people have seen in the 2020 hit drama Crash Landing On You, it is not very convenient to commute even inside North Korea.  
Where South Koreans get three days holiday, North Koreans only get a day off. 
Head on to Arirang News if you want to learn about the difference between both sides of table settings and food. 
Chuseok In Other Countries
People living abroad, don't necessarily come back to the country every year. They rather stay in their respective countries and enjoy Chuseok with the immediate family if available, otherwise, just them. 
They sure get on face time. And this has become habitual living in the post-Covid-19 world. 
How To Wish For Chuseok In Korean? 
You can learn to pronounce this correctly if you're learning Korean or if you have any Korean friends. 
However, if not, you might end up risking your relations with the natives. No, don't worry. Nothing like sort would happen. 
But it's always good to make some efforts and learn the correct pronunciation. 
Here you go!
Impact in K-pop world
Just sharing a bunch of photos giving us traditional Korean feels. 
K-pop artists love celebrating their festivals. We've heard stories about them visiting their families during this time. Sometimes, they even invited their foreign members to their homes to experience Chuseok first hand. 
You can also see them looking gallant and gorgeous in those beautiful Hanboks. 
Monsta X
BTS
Dreamcatcher 
These were a few glimpses of K-pop idols wishing their fans for Chuseok as here, we are wishing you the same. 
We hope you enjoy this festival and your respective countries' holidays with the same spirit. We'd also love to know how did you like the article? How many things were you not aware of? 
Let us discuss this in the comments below! 
Author - Akshita