There's nothing like eating delicious Korean snacks while watching your favorite shows. And there are so many to choose from! Here are the 10 must try Korean snacks and treats for first-time buyers.
Sweet as Candy (and Chocolate)
Sometimes we need a sugar rush or something to lift our spirits. These five sweet treats are sure to do just that.
Image Credits: Seoulbox via Pinterest 
Lotte Pepero: An iconic snack. The biscuit sticks come in many different flavors, and we put them in a lot of our boxes. Our most featured flavors include Almond, Crunky, and Jeju Tangerine. For November 2019, we even had a Pepero-themed box! Have you tried them all?
Image Credits: kaspire80 via Instagram
Orion Choco Pie: Korea's version of Wagon Wheels: chocolate biscuit outside, marshmallow inside. Their most popular flavor is Banana (above), and every year they have new seasonal flavors. Like Pepero, we often feature Choco Pies, including in January's Korean Weddings box.
Image Credits: honeybutteralmond.mnl via Instagram
Tom's Farm Korean Style Almonds: This sweet snack is a little healthier. It comes in many unique flavors, from sweet honey butter to hot wasabi. It's another snack we like adding to our Seoulboxes, most recently the Roasted Onion chips in this month's Wonka Café 2.0 box.
Image Credits: mugunghwa.thenewton1 via Instagram
Nongshim Banana Kick: As you may have guessed, Koreans LOVE bananas. So Nongshim combined them with corn to make the Banana Kick chips. Besides the Original flavor, you can get Choco Banana, Strawberry Banana, and Green Tea Banana.
Image Credits: Orion via Instagram
Orion My Gummy Jelly: These gummies come in different varieties, including the popular peach, green grape, and plum (above). You can also get them shaped as worms or use it to make your own pudding. Who knew jelly could be so much fun?
Savory, Spicy, Crispy
Perhaps you're craving something with more of a kick or a crunch. We've got that covered with the last five items on this list.
Image Credits: Joma via Instagram
Haitai Calbee Honey Butter Chips: This collaboration between the Korean Haitai and Japanese Calbee companies kicked off the "Honey-Butter Craze" in 2014. Since then, they've released some special edition flavors, like the Cherry Blossom chips in our August 2019 Seoulbox.
Image Credits: sky4everwen via Instagram
Orion Kkobuk Turtle Corn Chips: You'll find many corn chips in Korea, and Orion's Turtle Chips are the most popular. There are different flavors for people who like their chips sweet or spicy. Try the original Sweet Corn Soup or the Chocolate Churros we included in our June 2021 Summertime in Jeju box.
Image Credits: Golden Grocery via Instagram
Nongshim Shrimp Crackers: We can't forget about seafood snacks, which are also big in Korea. These Shrimp Crackers are perfect for when you want something crunchy and fishy. The spicy version tastes great dipped in mayonnaise.
Image Credits: 20_talin_05 via Instagram
Haitai Sindandong Tteokbokki: Want to experience the spiciness of tteokbokki in your living room? Open this pack of chips or any of the other spicy snacks that pop up in our boxes.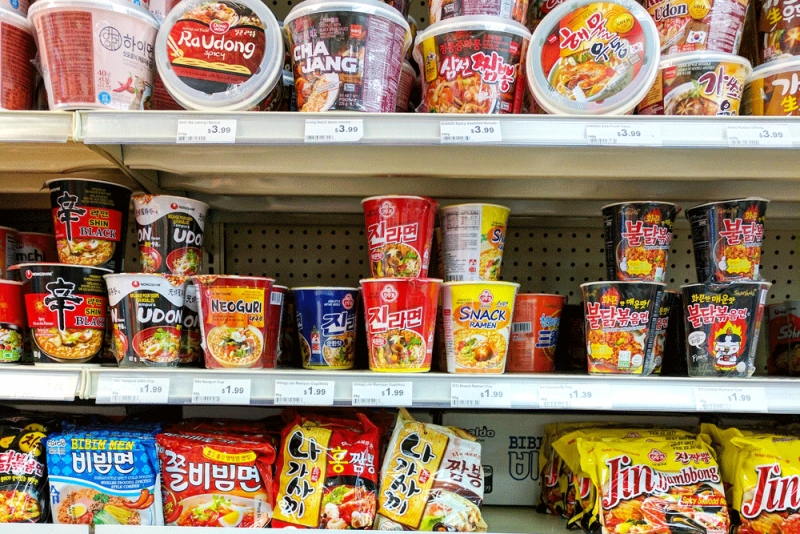 Image Credits: Dan Clapson
Ramyun (Various): Yes, technically this is a meal, but many Koreans love eating ramyun as a snack: between work shifts, while studying, or during k-drama marathons. There are so many varieties out there, and every Seoulbox has a packet for you to try!
Seoulbox: The Ultimate Korean Snack Box
You're probably wondering now: where can I find these amazing snacks? There's an easy way: Order a Seoulbox and get a selection of hand-curated snacks delivered to your front door.
First, go to the Seoulbox website and choose a box. We offer the regular Seoulbox Signature and Seoulbox V (vegetarian and Halal). You can also take the Hoya Quiz for a personalized box. If you like Korean beauty and lifestyle products, then consider purchasing Seoulbox Life.
Image Credits: Image via Seoulbox
Next, choose how often you'd like to receive the box. For first-time buyers, we recommend getting the one-time box. If you like the box, you can upgrade to the monthly, 3-month, 6-month, or 12-month option.
Image Credits: Image via Seoulbox 
Finally, pay and wait (impatiently!) for your box. When it arrives, post a review or unboxing and tag us @unboxyourseoul. A lucky reviewer will win a free box!
Image Credits: Seoulbox via Instagram
We hope you enjoy your Korean snacks. Read this blog for exciting new k-dramas that you can binge while snacking!