It's all about peace, luck, and prosperity!
Even though we all follow the usual calendar which goes from January to December, still every country has a special calendar for itself. 
And we celebrate a few important festivals or holidays according to those calendars. Seollal is one such holiday spread across East Asia. 
The festival falls as the very first holiday on the Lunar Calendar which East Asia follows. 
But, Korea is not the only country that celebrates it, there are more which you will get to know inside. 
When is Seollal 2022?
It falls on the first day of the Lunar calendar. In the year 2022, it will fall from December 31 to January 3rd. 
Just like Chuseok, Seollal also has 3 days holiday. A day before the actual day, the very day, and the next after it. 
Remember Chuseok and traffic jams? Well, Seollal is no different, since the majority of families visit their hometowns. 
Is Seollal & Chuseok the same?
The answer is No. They two are different holidays. Let's know how though? 
Main difference
The closest festival of Chuseok to the Americanized version will be Thanksgiving. The holiday has been viewed as the Thanksgiving the world celebrates. 
While Seolnal or Seollal, is the Korean new year's day. 
Food 
There is not only one specific food that Koreans eat on that day, but a couple of dishes are fixed to be made in the holiday. 
For Chuseok, it's Seongpyeon, a sweet dish filled with red beans, ground rice, sesame seeds, chestnuts, and sugar. Whereas Tteokguk, rice cake soup for Seolnal along with banchan.
Do the Chinese also celebrate it?
Yes, it is said that this tradition has been derived from China. 
It originated from China and people do respect that. However, over the years, the festival has changed so many traditions, especially in terms of food. Now, it has been celebrated as a new year overall Asia referring it as "Lunar New Year". 
"Lunar New Year is the more inclusive and accurate term as it applies to the holiday worldwide;" says Nancy Yao Maasbach. 
Who else celebrates Seollal?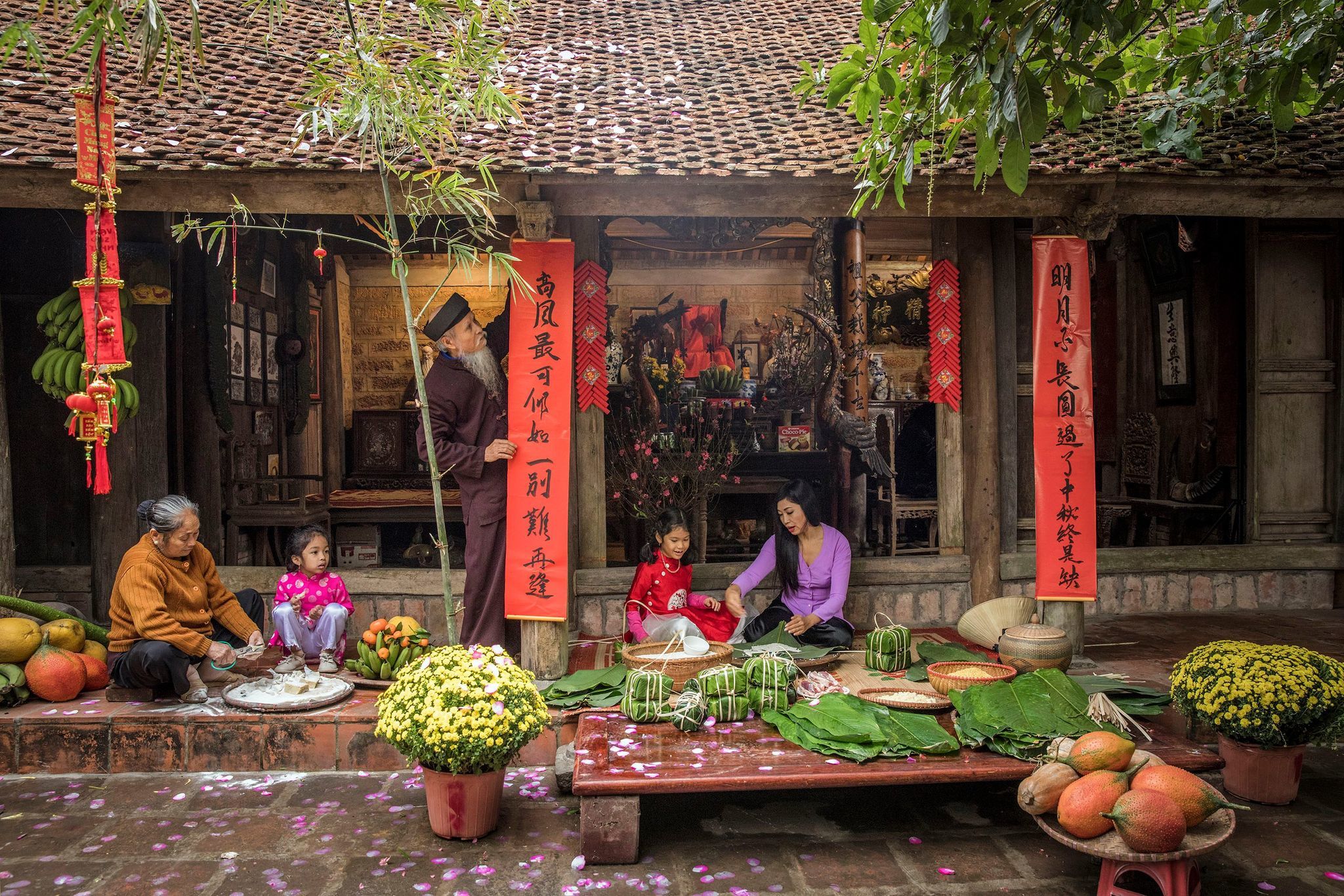 Not only China or Korea, but Vietnam, Mongolia, and many other Asian countries also celebrate it.   
Spring Festival or Chūnjié is the name Chinese people know Lunar New Year of. While it is Tết in Vietnam and Tsagaan Sar in Mongolia. 
Which animal year is 2021? 
You must have heard "I was born in the year of rabbit" or "Year of dog or pig", etc. in your favorite K-pop idols' interview. 
Even Jackson Wang said in one of his American interviews that he was "born in the year of the dog. We do that a lot in Aisa". 
He wasn't wrong. Every Lunar year is assigned and related to every animal in the Lunar Calendar. The relation exceeds the point of having similar characteristics. And this keeps rotating, mainly 12 years, 12 animals is the formula. 
See the image below to find your animal. 
Now you see what are we going to talk about? 2021!

Yes, 2021 is the year of Ox. But what does that mean? 
No matter what year you were born in, no matter what year of animal it was - you will still find success this year if you genuinely work hard.
However, since this is 2021, so if you were born in the Ox year, you will get rewarded for your hard work which will motivate you to work harder. This was according to Reader's Digest. 
Greetings for Seollal
새해 복 많이 받으세요 can work here since its a new year whose literal translation is "Please receive a lot of luck this year" 
You must be wondering why are we talking a lot about Chuseok, that too in a "Seollal" blog. Well, it's because these two are the prominent holidays in South Korea. Too much is similar, yet distant. 
If you have read our Chuseok blog, you know Koreans go back to their hometowns and they do family get together there. 
Then there's ancestral rites and Saebae, this is done by youngers to the olders in regard to paying respect to them by bowing three times in a row. 
Food 
Talking about food, they mostly eat seafood, soup, rice, and tteokguk (rice cake soup) that we discussed above, which is eaten throughout the year. However, it has a special significance on the day of Seolnal. 
The Trauma Yet Again! 
Remember "Post-holiday syndrome"? Well it's in Seolnal as well. 
Here's what it means. A Post holiday syndrome happens a lot to the women of the family who works weeks before the holidays, prepares the food for the family arriving on the day of Chuseok and Seollal. 
Where do Korean visit on Seollal? 
This is one thing that most people want to do after going to Korea. Visit these beautiful and cool places like these which also holds a lot of history behind it. 
Seoul Museum of history (서울역사박물관) 
Samcheong-dong street (삼청동길) 
The National Museum of Korea (국립중엉박물관) 
Korean folk village (한국민속촌)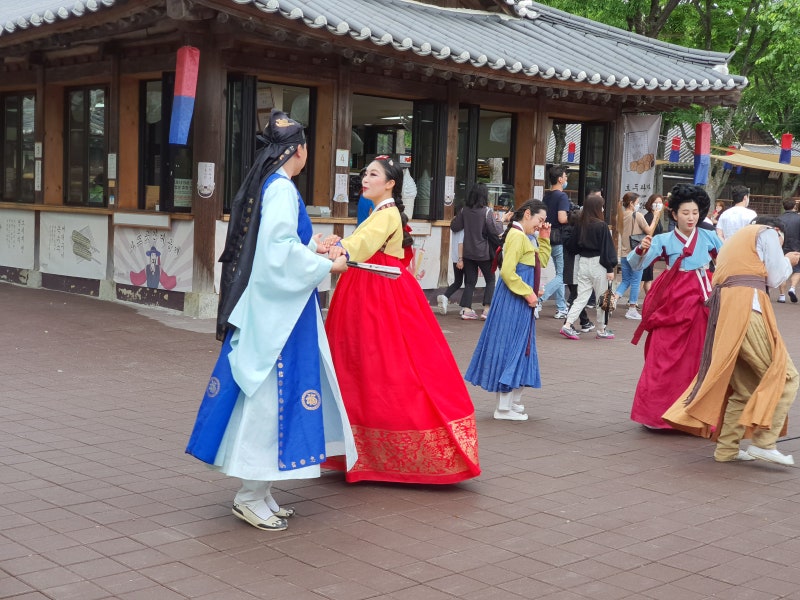 Image credit: 위키백과
Chang-doek-gung palace complex [UNESCO World Heritage] (창덕궁과 후원 [유네스코 세계문화유산]
National Gugak Center (국립국악원)
Jongmyo Shrine [UNESCO World Heritage] (종묘 [유네스코 세계문화유산])
Namsangol Hanok Village (남산골한옥마을)
What clothes do they wear? 
Talking about what do Koreans wear on Seollal. Well, there's no difference in the attire since Hanbok is the traditional and national dress of the country. 
Read this if you want to know more about Hanbok! 
Movies, Dramas, Books, & Youtube Videos To Watch & Learn More About The Festival
Oftentimes we want to learn about a new culture, their languages, how and what do they on special occasions and many more interesting things. But not always do we get greeted with the abundance of sources of knowledge, do we? 
So, if you want to get acquainted with this festival, or maybe any other Asian-related thing shown in movies or dramas, here's a curated list for you! 
Crazy Rich Asian
The movie beautifully presented the Chinese culture of heavenly rich Asians living in Singapore. Yes, I'm aware it's not related to Korea and the festival, however, it's all about Asia here. 
It also became the first contemporary movie having an all-Asian cast after "The Joy Luck Club" in 1993. 
Origin and customs of Lunar New Year: Seollal
As the name suggests, this video will educate you about the traditions that people follow and rituals they do on Seollal. 
. 
Korean food lives: celebrating Seollal 
This one focuses more on the food consumed in Seollal. Get to know more from it. 
Korean Seollal Song 
It's a beautiful song which depicts the importance of the holiday. 
KBS TV: Seollal 
Only in Part 1, Seollal vibes have been shown since people have gone back to their hometowns for celebrating Seollal. It also has a fun and an emotional way. 
For the books lover, it's a treat for you. Know everything about it, but in your favorite form - books! 
Conclusion 
We at Seoulbox try to come up with different culture aspects for you to learn. It also reflects in our boxes which we'd like you to check out! 
Let us how you liked the blog and if we were successful in educating ou about it! 
Author: Akshita