Korean drinks come in all kinds and tastes. Every taste bud will find its match from sweet banana milk to refreshing Sikhye or the famous Soju. Let's take a look at where the Korean drinking culture has its origin, the types of drinks Korea offers, the 12 most popular drinks, and where to get them.
The drink aisle in a Korean Mart
Drinking Culture
Drinking in Korea is a big part of the culture and is widely socially accepted. If you meet up with an old friend or get to know someone new, it is normal to go for a round of drinks. Especially Soju is liked across Korea, so you'll likely find that drink on the table at least once. We will look at this famous drink in more detail later, don't worry.  
The interest in creating their alcohol already sparked in South Korea in the Koryo Dynasty (918-1392) when South Korea experienced exposure to foreign cultures and distilled water got introduced as a technique to create alcoholic drinks.
A temple from the Koryo Dynasty
Back in the days but still reaching up to today, drinking was related to seasonal events and holidays. The farmers would start brewing and fermenting once the harvest had ended in anticipation of spring, where they had a glass of rice wine before leaving to the fields in the morning. 
Korean farmers working on a rice field
On Korean New Year, it was traditional to drink Soja to protect oneself from evil spirits and promote health for the new year. 15 days later to New Year, according to the lunar calendar, Daeboreum is taking place. This national South Korean holiday is celebrated by drinking Daeboreium, "ear-quickening-wine". On this day, the first full moon is happening every year, and there are multiple moon-viewing events. While adults drink wine, children only place their lips at the glass and then pour their amount into a chimney to deter sickness.
New Years celebration in South Korea
Another Korean holiday is taking place on the fifth of the fifth month of the lunar calendar. "Dano" celebrates the transplanting of rice seedlings and is a significant holiday. On this day, Changpoju is being consumed, which is a wine mixed with iris petals that give the drink its unique taste.
The Dano Festival in South Korea
Nowadays, drinking is used as a bonding experience between family and friends but also between colleges that work together to create and tighten emotional bonds. Coming together after a long workday to establish a work-life balance can improve the mental well-being of everybody and decrease feeling lonely. Korean drinking habits evolve a lot around going out while drinking and drinking alongside meals. 
Koreans drinking together
Now that we know more about the history of the drinking culture, let's look at the types of drinks consumed by South Koreans every day. 
------------------------------------------
Types Of Drinks
Different types of drinks can be found in bars, restaurants, cafes, and supermarkets in South Korea. Warm drinks like hand-dripped coffee and green tea are usually found in cafes and tea houses, while beer and Soju are found in bars and restaurants. Probably the most famous Korean non-alcoholic beverage must be banana milk. This drink is renowned for its not-too-sweet taste. While the Korean climate doesn't let bananas grow there, banana milk is still super popular among the citizens. If you're looking for a sweet drink, you might find your perfect match with Sikye. This delicacy is so precious that it is sometimes served as a dessert. It's made from rice and even contains cooked rice which makes the consistency unique. This drink can be found in Korean spas as a refreshment and is usually served cold. 
Here you can see the rice grains at the bottom of Sikhye
We're pretty sure that by now you urge to know what drinks exactly Korea has to offer for us. Let's have a look at the twelve most popular alcoholic and non-alcoholic beverages from South Korea!
Top alcoholic drinks in South Korea
Soju (소주)
The winner and most popular Korean alcoholic drink is Soju! Soju is traditionally made from the grains of rice, wheat, or barley. Nowadays, producers tend to replace the traditional ingredients with potato or sweet potato starch. The name Soju means burned liquor, which fits if you think of its alcohol volume reaching up to 53%. The liquor is clear and colorless and dates to the 13th century Goryeo, also known as Koryo Dynasty. Nowadays, it is consumed by nearly every Korean of age. Soju comes with its very own drinking etiquette, which is incredibly important. The youngest member of the group pours the drink for the elders out of respect. And this does not only apply to age but also the hierarchy within a company. Meaning that if the superior of the company is younger than their subordinates, they are still the one who gets the drink poured by the lower-ranked members. The drink is to be poured into the glass of the elders with two hands while they hold the glass with two hands while receiving the drink. This rite is passed on from generation to generation and is still commonly used among lovers of Soju. The beverage can be mixed into beer or cocktails or enjoyed neat as a shot.
Rice wine (막걸리)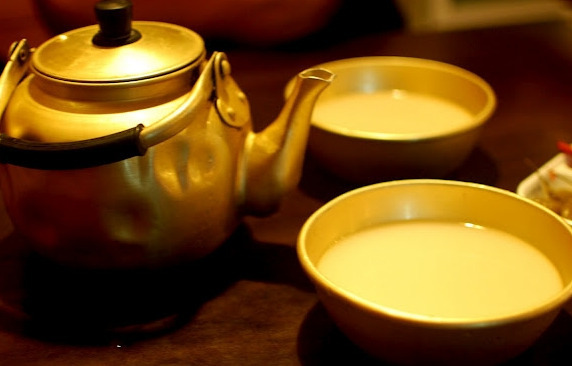 There is not just one type of rice wine in South Korea, but we mentioned it here. Rice wine has a long history in Korea, and up to this day, it's still commonly enjoyed. The milky version of rice wine is called Makgeolli. This sweet drink is one of the most popular alcoholic drinks in South Korea. The natural fermentation and lack of filtering make this beverage thick and smooth and give it a milky white color. Did you know that Makgeolli is the oldest traditional Korean rice wine? With its six to seven percent alcohol content, it's not too heavy too. If you want the traditional experience, just drink it out of a bowl instead of a cup. This is also how you will serve if you order it at a bar or a restaurant. 
Beer (맥주)
Beer was originally introduced to Korea by Europeans but is now well known and loved all over the country. There are even a couple of beer breweries in South Korea. It is very common to pair beer with a shot of Soju, making it more Korean and delicious. Beer is called Maekju in Korean, written 맥주, in hangul. 
Bokbunja Ju (복분자주)
This blood-red wine is made from the Bokbunja berries, which are blackberries that are native to Korea. It has a sweet berry wine and is more of a dessert wine than red wine. The wine's berry is rich in antioxidants and helps promote healthy skin and protect the heart and liver. This beverage goes very well with seafood and can be ordered at restaurants and bars all over South Korea. 
Baekseju (백세주)
Another specialty for wine lovers. This yellow wine is made with various roots and herbs, the most prominent one being ginseng. Some brands even include wolfberry or licorice, giving it a strong and unique taste. The beverage has a little secret, though. Among older ajusshis, a Korean term for uncle, the drink is known as "100-year liquor" since it's supposed to grant the consumer help to become 100 years old. We say: You have to try the drink and tell us in the comments below how it made you feel!
Cheongju (청주)
A little bit more expensive than Soju but worth it is this beverage that translates to "clear liquor". It is made from rice and fermented a couple of times, giving it a sweet taste. Cheongju is also used in Korean cuisine. It works perfectly for marinades and sauces. It can be enjoyed hot in winter and fall and cold in summer and spring as a drink. 
------------------------------------------
Top non-alcoholic drinks in South Korea 
Banana milk (바나나맛 우유)
You heard it before, and there she is again. Number one of the Korean soft drinks is banana milk. This beverage is made out of milk and banana concentrate, consisting nearly only of natural ingredients. While bananas are not that easy to find at a low price in Korea since they need to get imported, you will find affordable banana milk at every single supermarket in South Korea. Banana milk is the Korean milk that every generation enjoys. You can take it to work to strengthen yourself or have it as breakfast. Even BTS Jungkook loves the yellow drink with all his heart. 
Watch here how BTS member Jungkook heart eyes his banana milk
Sikhye (식혜)
Closely followed on place number two is the famous rice beverage Sikhye. It is fermented over a period and then canned to be sold at Korean markets. At the bottom of the drink, you will be able to find cooked rice grains, making them sweet, refreshing, and chewy at the same time. If you ever visited a Korean spa, you probably could find this classic on the restaurant's menu or the snack department of the spa. 
If you want to read more about Korean spas and the drinks and food you can get there, make sure to check this article out!
Bacchus (박카스)
We're leaving the Korean soft drinks behind to welcome an energy drink into the ranking. Also known as the Korean hangover cure, this drink is an absolute banger. When it came onto the market in 1963, Dong-A marketed it precisely like a hangover remedy and was considered one of the Korean health drinks. Dong-A is a pharmaceutical company, so they knew what they were talking about. This energy drink was the one of choice before red bull came into the market. Nowadays, Bacchus is marketed as an energy drink. It contains water, sugar, and high-fructose corn syrup, giving you that sugary boost when you need it the most. The magical ingredient is the same as in Red Bull: taurine. Bacchus contains more than 2000mg of taurine in a 100ml bottle. This chemical component kicks tiredness out of your feet. 
Green Plum Tea (청매실)
 From boosting energy to a relaxing pot of hot tea. The green plums, also known as maesil, are being sold in early summer and then fermented with sugar to make maesil syrup. You just need to pour hot water on the syrup and stir away, and you have delicious fruity green plum tea. The great thing is that you can store the maesil syrup all year round once it's fermented so you can enjoy your tea whenever you want to. 
You can also make Maesil yourself. Watch the video below to see how
Pororo Friends Fruit-flavored drink
One of the most famous Korean bottled drinks is the Pororo Friends Fruit-flavored drink. It is especially loved by children and comes in a cute design and multiple flavors like banana, strawberry, blueberry, and apple. It is milk-based and contains safe and nutritious ingredients that are useful for health and development in children. It is the perfect drink to take to school, but while it's mainly targeted at kids, many adults enjoy the Pororo drink as well. 
Now that we know of the 12 most popular drinks in South Korea let's see where you can get them.
------------------------------------------
Best places:
If you're a beer lover and in need of a good beverage while visiting Seoul, you should definitely check out Korea Beer Exchange. This bar is dedicated to all sorts of beer and craft beer, and whatever you want to know about the liquid you're drinking, the friendly staff will be able to help you out and let you in on their knowledge about the drinks they serve on the tab and bottled.
You're more into spirits and wine than beer? No problem! The WooBar in Gwangjin-gu serves all kinds of those goods. The atmosphere here is modern and stylish, and you can pair your drinking experience with live music from a DJ that plays here every night. By the way, the bar that you are going to sit at is the longest in Korea. It stretches over 18 meters, leaving enough space for everyone who wants to enjoy Soju, Cheongju, or Baeksu.
This is how it looks when a DJ is playing at the WooBar
Korean Tee houses are the place you're looking for if you want to have a traditional Korean tea experience. The Osulloc Tea House in Seoul specializes in green tea drinks and dishes and sells all kinds of tea delicacies on three floors. 
You can read about Seoul's best cafes here
If you are looking for a place to buy canned or bottled drinks or even maesil syrup, the main ingredient for green plum tea, you can visit your local Korean or Asian supermarket and try to find some of our suggestions.
In conclusion
Korean drinking culture is deeply rooted in tradition and history. Nowadays, you can enjoy it as part of your everyday life and bring Korea closer to you with Korean soft drinks that you can get at the supermarket. If you try one of the suggested drinks, please make sure to link us on social media. We would love to see which favorite you pick. 
Also, let us know which drink you must try right now! Please leave us your opinion in the comments down below! We love hearing from you.  
 Author: Kris